Sage Salt R8 Fly Rods
Sean Visintainer - 01/20/23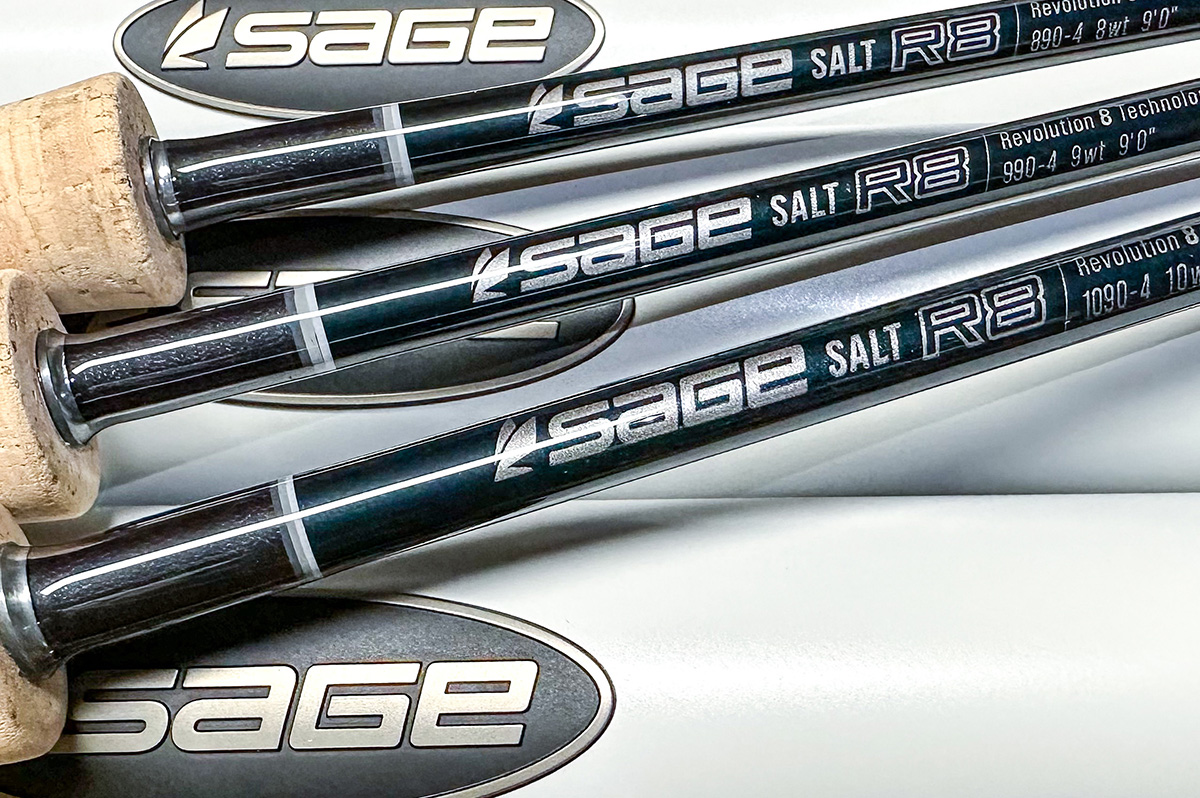 Saltwater Specific / Fast Action / More Fight, More Touch
Sage recently launched the all New SALT R8 fly rod designed for saltwater fly fishing adventures from bonefish, redfish, permit, tarpon, and beyond.
We received a few SALT R8's in the shop and had a good visit with 31 year veteran Sage Rep George Cook who brought an arsenal of SALT R8 rods for us to cast with various Rio saltwater fly lines.
Whether it was the 6wt or the 11wt SALT R8 that we cast the rod lineup keeps the same feel across the board. Fast tip through butt, however, fast doesn't mean it lacks any feel. The rod loads smoothly and should give anglers of varying skill level the ability to sense the loading.
Being a saltwater specific fly rod, the SALT R8 was no slouch and you could really lay into it to drive line speed. But if an angler is more relaxed and lets say backed off the power by 30% it still loaded and performed well. I did find that a smooth, yet powerful casting stroke was best.
One of my personal favorite traits was the positive turnover the tip provided. These rods should have no issues turning over lead-eyed crab or shrimp patterns, especially combined with the right lines.
We have some SALT R8's in-stock so if you have saltwater destinations on your horizon come by and cast one for yourself! The Sage SALT R8 is a big improvement over the former Sage SALT HD... which you never saw in the shop cuz we didn't care for it much!
Notes and specs from Sage:
25% Greater Strength Per Rod - Greater Pulling power equals more fight for faster landing and less stress on delicate ecosystems
Enhanced Durability - Enhanced toughness withstands more rugged situations and demands of remote travel
More Intuitive Sweet Spot - Prioritizes touch and speed for shorter shots and on-demand casts
Saltwater Specific Guide Set - Fuji K-guides resist corrosion, while angled shape prevents snags and tangling in the chaos of the fight. Oversized chrome snake guides and tip-top allow larger slatwater knots to pass with ease.
Heavy-Duty Reel Seat - Built for enhanced contact and confidence, heavy-duty reel seat and oversized locking rings keep reel tight to the rod for greater contact, rigidity, and a more dirrect connection when fighting powerful high-stakes fish
Features
Revolution 8 Technology
Tempest Blue blank color
Slate primary thread wraps with graduated White and Grey trim
Premium Flor Grade Cork Handle w/EVA Butt
Black rod bag with new cord lock for quicker, easier, and cleaner storage
Aluminium rod tube with Sage medallion
Price: $1100
690-4
790-4
890-4
990-4
1090-4
1190-4
1290-4
1290-4FG
1586-4