Foot Tractor Wading Boots - Aluminum Bar
Item # foot-tractor-wading-boots-aluminum-bar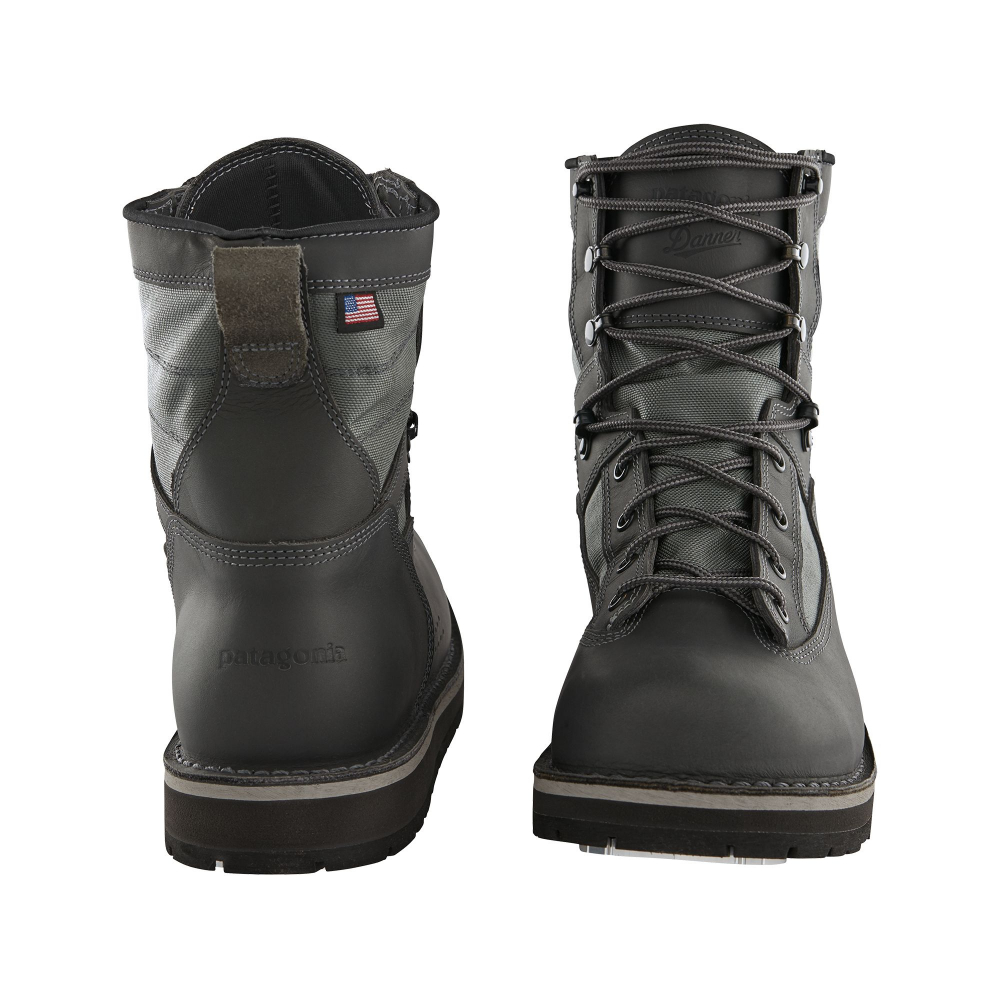 Patagonia Danner Foot Tractor Wading Boots have arrived! These USA handmade boots are a collaborative effort between Patagonia and Danner to bring you the ultimate wading boot designed to be your last. Unlike other boots on the market which may only last 1-2 years, Patagonia's Danner Wading Boots can be recrafted should they start to breakdown or need resoled. No more polluting the earth with more boots for the landfill.
The Patagonia Danner Wading Boots are also designed to be extremely comfortable. With decades of experience, Danner spared no expense at making these comfortable for all day wear even if you were barefoot, or have thin socks. The Tractor Model incorporates aluminum bars to give you optimum grip in slippery conditions. The bars on the new boots are now strategically positioned to give you the ultimate traction. Each pair of boots includes an extra set of bars. If you are looking for the BEST wading boots on the planet, look no further than the Patagonia Danner Tractor Wading Boot.
---
Features
Waterproof full-grain leather treated with a PFC-free saline solution tanning process for improved resistance to breakdown, even in salt water; the leather can be reconditioned as necessary. Tough 1,000-denier nylon paneling provides excellent abrasion resistance


Upper is stitched to 5mm rubber midsole for stability underfoot; a second, lower midsole is made from water-resistant polyether polyurethane that adds additional comfort and support


Adjustable lacing system has traditional eyelets across the forefoot and speed lacing through the ankle; the speed lacing provides easy tightening, supports the ankle and helps lock the heel in place


Perforated drains on both sides of boot upper clear water quickly; for faster dry times, upper design is free from unnecessary foams and backer


Stitch-down construction creates a wider platform for more stability, helps protect the boot sidewall and allows the boots to be resoled by Danner


Vibram® Idrogrip sole compound specially developed for maximum grip on wet surfaces; the sole offers great all-around traction for long approaches and mixed streambed footing such as rock, gravel and mud


Patented aluminum bars are hard enough to cut through slime and soft enough to conform to rock surfaces
Note
Danner® boots are built to accommodate additional layers such as wader booties or socks, so we suggest choosing your regular street-shoe size. Foot Tractor Boots work with thicker wader booties or socks; If you want to wear them with thin wader booties or if you're wet-wading, please size down.
Specifications
Manufacturer: Patagonia
Manufacturer Part Number: 79320-FGE
UPC:
---