Oros Strike Indicator 3-pack
Item # oros-strike-indicators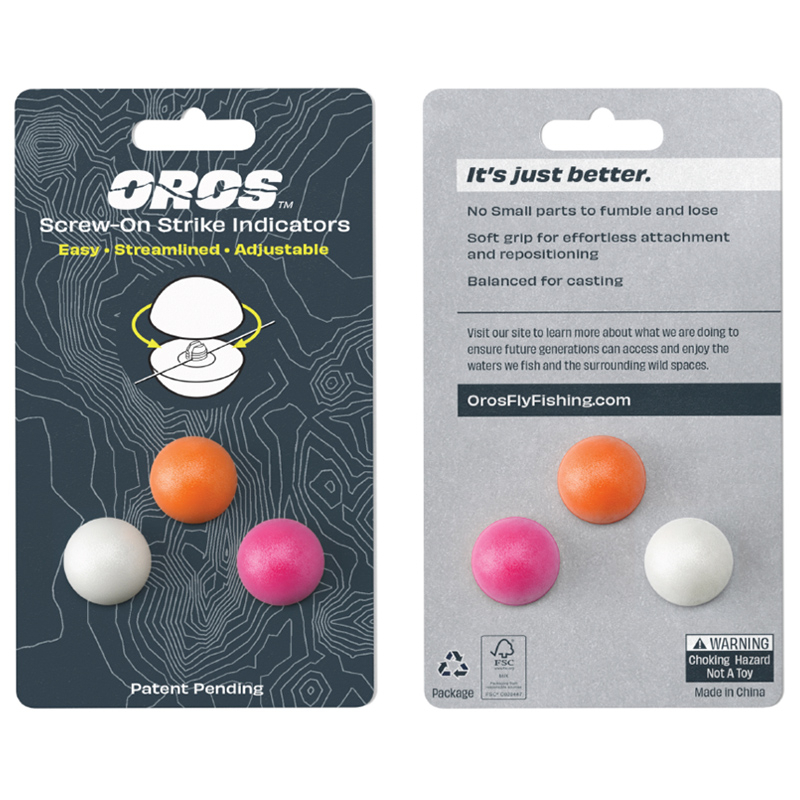 Strike Indicators Don't Have To Be Frustrating
"Strike indicators are a pain to use. They have tiny parts to fumble and lose, or are not balanced on the line. Some have parts sticking out that get tangled. Applying, adjusting and removing strike indicators from the line is challenging in the best of conditions, let alone when it is cold. I haven't found the perfect strike indicator until now."
Patrick Douglas - Founder of Oros Fly Fishing and inventor of the new Oros Strike Indicators.
---
Exceptional performance
Oros strike indicators enclose fastening hardware inside of two foam hemispheres. When closed, the foam compress creating a pressure fit lock that keeps it on the line and in place, without kinking. Large screw threads make securing it to the line effortless, and it it's even easier to lock in place with wet hands.
Less pain
Oros strike indicators eliminate common indicator pain points. There are no small parts to fumble and lose. It's streamlined design is centered on the line for balanced casting. There is no exposed fastening hardware or posts sticking out to create drag or tangle line.
Floats great
Oros strike indicators provide the right mix of weight and buoyancy. The smooth surface was developed to repel water and dirt, creating less drag in the water and while casting.
Mix or match colors
Personalize color combinations for optimal visibility and sensitivity under various conditions.
---
Features
Biodegradable - Oros Fly Fishing Strike Indicators are made with a biodegradable additive that rapidly enhances the ability for plastic to biodegrade in natural environments, not in normal use.
Sustainable - Oros paper packaging material is Forest Stewardship Council (FSC) certified.
Less plastic - No single use plastic is used in our consumer packaging.
Specifications
Manufacturer: Oros
Manufacturer Part Number:
UPC:
---