Yellowstone Park Fishing Post Flood
Sean Visintainer - 10/21/22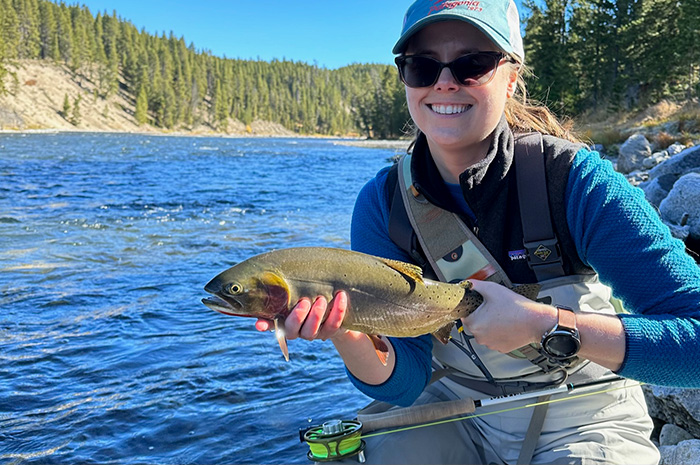 Back in action
After June's historic flooding in the northern section of Yellowstone National Park the animals and fish that call YNP home all got a well deserved break from visitors and anglers. In July most of the northern loop was reopened, but the iconic Lamar Valley and NE entrance remained closed to visitors until October 15th because of such devastating damage.
I was in the park for 4th of July on a whirlwind 1.5 day visit, but didn't have much time to fish and didn't know what to expect so shortly after the flooding. This time around we planned a little extra time on an annual fall road trip and snuck a few casts in on both the Yellowstone and Lamar Rivers.
Nighttime temps were brisk so there was no need for early starts and most of the action was sub-surface with hatches being on the tail end of the season. The cutthroat however were full of fight and seemed healthier than ever before. A typical season in Yellowstone receives tens of thousands of anglers and with no access to the park's famed North East corner fisheries until last weekend, the Yellowstone cutthroat were well rested. Only part-way through the summer did outfitters gain access to bring guests to portions of Yellowstone, Lamar, or Slough Creek waterways so angling pressure was a fraction of what it could be.
Overall traffic was very light in the park and despite a few construction zone stops due to the ongoing reconstruction of roadways in the Lamar Valley, there was no issue finding a spot to fish or explore the Yellowstone region. Yellowstone National Park, while yes can be overly loved and busy, is truly a special place that is a treasure worth seeing, and of course fishing!
Gear Notes From the Trip:

Rods -
I recently picked up the Air2 9' 6wt Winston and absolutely love it. With a bit more power than the 5wt, the Air2 6wt is a perfect western river style rod. Easy casting but handles nymph rigs and dry / droppers with ease. I have it paired with my trusty Ross Evolution R 5/6 and Airflo Universal Taper (Redband color).
The other rod / reel we used was the new Orvis Helios 5D. The Helios series from Orvis is incredible. A bit faster in the tip than the Air2 we were fishing, the 5D (5wt Distance) was Jen's favorite due to the lightness and feel. We have it paired with the made in the USA Orvis Mirage Reel and Scientific Anglers Amplitude Textured MPX, this set-up JAMS!
Waders -
I have been using the new SIMMS G3 Waders and love them, especially if I am going to be hiking around. They feel lighter and more breathable than previous models which makes them super comfortable for rock scrambling and getting off the beaten path. I am a big fan of my Patagonia Swiftcurrent Zip Waders, but these new SIMMS G3's are a dialed for when I plan on doing some more active fly fishing / hiking.