Initial Casts - Winston Air TH Spey Rods
Sean Visintainer - 08/20/19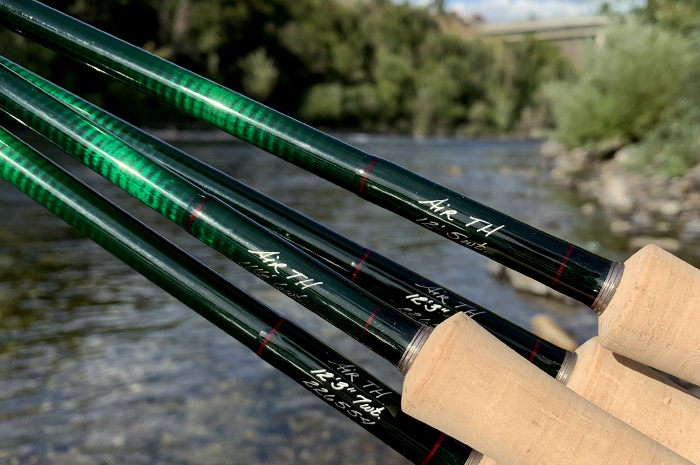 New Winston spey rods, same great feel that you've come to expect
Last week I was able to get a sneak peek and test cast the new Winston AIR TH spey rods that are coming out this fall. Winston has long been known for some of the finest and smoothest two-handed spey rods in the industry, these are no exception.
I met our Winston Rep, Eric Neufeld, down on the Spokane for an impromptu casting session. We hadn't planned on meeting up to cast sticks, but a live post on Instagram fueled my curiosity so I buzzed over to see what they were about. Eric had just received the rods the day before and was working on getting the grain weights dialed in for when he hit the road to show other fly shops. Fortunately for us Eric lives in our hometown so we got an early showing.
He had with him four of the models he was sent, two of the rods he had cast the day before so I wasn't able to give them a practice wiggle.
Below that is a little more detailed description of what each size would be ideal for and my first impressions summary of the new Winston AIR TH rods.
First Impressions Summary
The new Winston AIR TH speys feature the latest SuperSilica resin system and Boron technology, they are replacing the popular Boron TH series. Right out of the gate with no reel, line, or anything else it is apparent how the name came about. They are INCREDIBLY lightweight and well balanced. They are not the rod of yesteryear where it requires a massive, heavily weighted, reel to counterbalance such a rod length. Newer, "techy" light reels will match up nicely with these rods and of course your old school reel will too.
Casting wise, the rod is easily one of the smoothest loading spey rods I have ever thrown. From tip to butt you can feel the rod load without any hinging or dead zones. The biggest difference in these new Winston AIR TH speys is how fast they recover. They loved lined speed and a good solid bottom hand driver both loading through the D-loop and through the forward stroke. Despite the developing fast line speeds, I would consider them a "relaxed" fast action rod. Your timing does have to be more spot on than lets say the older series BIIx Speys. However, they are not blistering fast like other "fast action" speys on the market. Powerful, fast recovery, responsive, with feel and smoothness is best to describe them.
We didn't have tons of time to play with too many line combinations, but we did try some Airflo Rage heads, Scientific Anglers Scandi Lites, and even some sink-tip action with the older Airflo Switch (the Airflo Scout would be dialed too). It didn't seem to matter whether it was a scandi head, or a skagit, the rod action could do either one well.
We will plan on getting some of these rods in this fall as they become available. If you are interested in a particular size please don't hesitate to reach out and we can make sure we get you one. 509-924-9998 or email.
Models Cast
12' 5wt — This rods was very easy loading out of the four we cast. It seems like it would be ideal on rivers like the Grande Ronde, Rogue, or similar for early season summer run steelhead. Probably too big for most trout situations, unless it's Alaska sized bows.

11'6" 6wt — My favorite of the group. This little sniper threw darts for me. Faster action and recovery than the 12' 5wt, it fit my casting preference the best. A nice crisp action. Ideal for situations like Ronde, Rogue, Deschutes, etc. If you prefer "softer" get the 5wt, if you prefer "snappier" get this one.
12'3" 7wt — This rod will be a go-to steelhead swinger for many anglers. Shorter rod length for modern head design, this rod will play well on the bigger rivers like Idaho's Clearwater, but also be worthy of coastal streams with overhead canopies and tighter casting quarters. Reminds me of the old Boron MX series, a favorite of mine.
12'3" 8wt — Big steelies, bigger water. This 8wt is for those hunting winter time hawgs. I think this will be a favorite of coastal fishery guys and anglers strictly looking for big B-Run steelies. Both this 8wt and the 12'3" 7wt were very similar in casting strokes, speed, etc, just a bit more hopped up on power for bigger fish, bigger tips, bigger flies, bigger water.
| Model | Line Weight | Length | Skagit Line | Scandi Line | Price |
| --- | --- | --- | --- | --- | --- |
| 5120 | 5 wt | 12' | 390-420 gr | 360-390 gr | $1250 |
| 6116 | 6 wt | 11' 6" | 420-450 gr | 390-420 gr | $1250 |
| 6126 | 6 wt | 12' 6" | 420-450 gr | 390-420 gr | $1250 |
| 6133 | 6 wt | 13' 3" | 420-450 gr | 390-420 gr | $1250 |
| 7123 | 7 wt | 12' 3" | 510-525 gr | 440-480 gr | $1250 |
| 7133 | 7 wt | 13' 3" | 510-525 gr | 440-480 gr | $1250 |
| 8123 | 8 wt | 12' 3" | 540-570 gr | 510-540 gr | $1250 |
| 8133 | 8 wt | 13' 3" | 540-570 gr | 510-540 gr | $1250 |
| 8146 | 8 wt | 14' 6" | 540-570 gr | 510-540 gr | $1250 |
| 9129 | 9 wt | 12' 9" | 570-600 gr | 520-540 gr | $1250 |
More info head over to the Winston Website: https://winstonrods.com