Friday Fly Shop Talk
Sean Visintainer - 08/05/22
Summertime consistency.
Where did the week go?? Summer is clipping along! We finally got a small taste of wildfires in the area this week, we knew it was bound to happen. But nothing major yet, let's hope nothing gets out of control this year. Last year if you recall the St. Joe, NF Coeur d'Alene River, and lower parts of the North Fork Clearwater all had fires from early July lightning strikes.
Fishing is, and will be, a morning game everywhere until mid/late September hits. Some fisheries like the Spokane and Kootenai will fish in the evenings because they run cold. Always temp the water if you are unsure and stop fishing (for trout) when it hits 68 degree plus.
Terrestrials are definitely a big part of the menu right now, but so are purple haze, caddis, and other attractors if you are hitting the nearby Idaho rivers. BUT, as the day warms up and you want to continue to catch fish it will be VERY important to run a long dropper, nymph rig, or euro rig through faster/deeper slots if you want to continue to catch fish. Or at least something besides cute fish.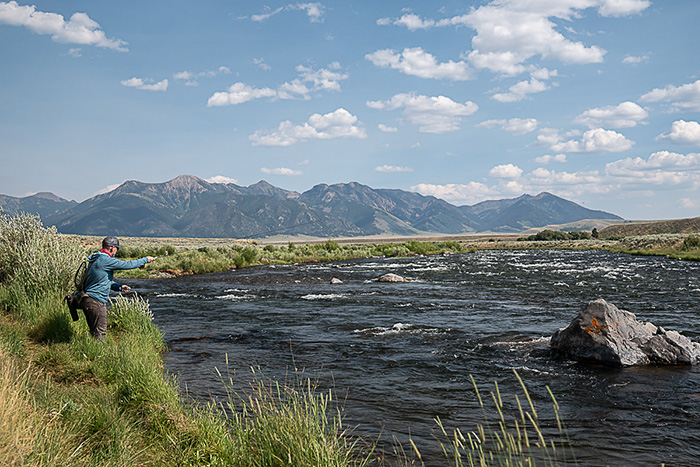 Speaking of euro nymphing, I jammed over to Montana to visit my uncle for a quick 2 day-er on the Madison. Our annual Madison River trip usually means we are going to euro nymph almost exclusively, and only euro nymph very busy sections of the river. It's actually quite fun to see if you can catch fish consistently in heavily pressured waters. Some trips have been banner, some have been so-so. This one was so-so, but some great moments for sure.
The guide crew is getting it done as usual. Fishing is the usual summertime consistency I would call it. Early starts and happy guests! Call Bo Brand at the shop to book a morning of fishing! 509-924-9998
International Fly Fishing Film Festival - August 25th, 2022
The International Fly Fishing Film Festival is back! Our friends the Spokane Riverkeeper will be hosting the IF4 at the Magic Lantern Theater downtown. All ticket sales from the event go to support the Riverkeeper and their efforts to improve the Spokane River.
If you want to see the Outcast 136 DD we have for sale swing by and check it out today! If you can't make it, please contact Bo at the shop 509-924-9998 to schedule a time for him to bring the boat back in. It's all set-up and ready to fish!