October Wrap-Up
Sean Visintainer - 11/01/22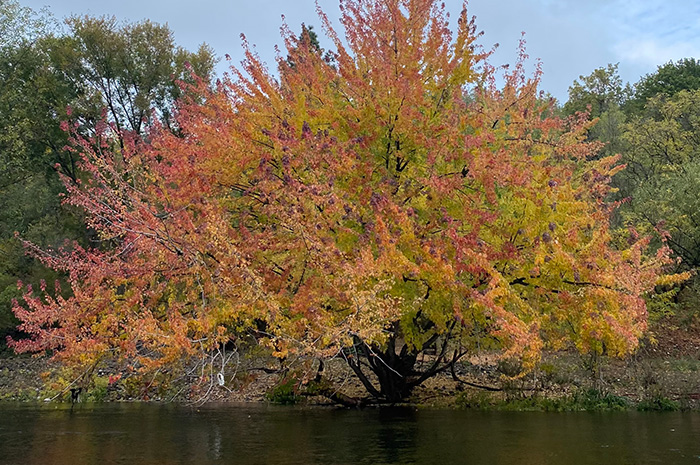 Colors and clouds
October wrapped-up yesterday with what many have considered one of the best falls we have had in quite some time in this region. November, however, is quickly shifting to hardcore fall, borderline, winter weather. Ugghhh, I hate winter.
Beautiful tree shot from our guide Jesse Retan while guiding the Spokane River. Jesse, also featured in the shot I took of him rowing a client recently, has had a great breakout season as our newest guide. Proud to have him on board with our other incredible team of Spokane River guides: Jake Hood, Kenyon Pitts, and Bjorn Ostby. He's out today on the water in the drizzly weather and will post a report tomorrow after I hear how he did.
The Spokane River has been holding strong. It will all fall and fish throughout winter as the best winter fishery in the area. The next closest one would be Rocky Ford, 2+ hours from Spokane.
Blue Winged Olive mayflies have been hatching the last couple weeks on the Spokane River. It's a game of chess with the Spokane River trout and bwo's. Strategy, finesse, thought, and perfect execution are the name of the game. The bugs have been smaller the last few seasons on the Spokane for whatever reason. 2019 was the last season of bigger bwo's. Now they are like 18's and 20's, though plentiful. Just a lot harder to catch fish on! Bring your A-game only. It's one shot and that's it typically, you will put them down in a hurry.
The Idaho Rivers (St. Joe and North Fork of the Coeur d'Alene) fished well last week and over the weekend. Good dry fly fishing. Rain, colder temps, and increased flows will throw them off now. Shoulda took advantage of the fishing window last weekend, it will be tougher now.
Rivers are quiet from here on out. Dress appropriately and enjoy the quiet season of fall fly fishing!